Ceramicgard - protection for ceramics
---
Ceramicgard
is a product specifically designed with long-term effect on ceramic and porcelain tiles. The product is water-and oil-repellent and prevents the adhesion of foreign substances on the surface. (Easy-to-clean effect), it forms a permanent and invisible thin surface film. Due to the hydrophobic effect of water drips easily from the treated surface, thereby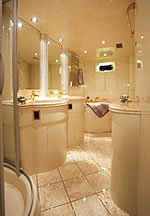 re-contamination is greatly reduced.
Water and oil repellent
dirt-repellent
limescale
weather protection
UV - weather resistant
protects against mildew
Application
Ceramic surfaces and porcelain tiles, sanitary facilities, bathrooms, sinks, bathtubs, floor and wall tiles (glazed tiles of glazed or not), concrete joints etc.

General
Is a microscopic ceramic and porcelain tiles, not quite smooth, so that water and dirt can settle easily on the surface.
Ceramicgard protects against dirt and calcium deposits on ceramic and porcelain tiles. Protect the treated surfaces against new and is water-, soil-, stain-, lime-and fungus-resistant. Dirty water can no longer accumulate in the matrix (structure).

The coating is permanent. This ceramic has a long-term protective effect, is UV-resistant and temperature change. Ceramicgard can not be removed by water and household cleaners. The product is non-yellowing and wear. We Recommend diluted for cleaning every third cleaning with our Nano Filter hundredth perform. Surfaces were coated with Ceramicgard are easier to clean, can further extend the cleaning intervals of the surface to be cleaned much more.